Pediatric Special Needs Dentistry – Leesburg, VA
We Give All of Our Detectives Top-Tier, Comfortable Care
As special needs dentists, we have the ability to adapt our services to the comfort and needs of our detectives. Often, it is difficult for children and adults with special needs to feel comfortable in a dental setting - they struggle with challenges of hypersensitivity to sound or light and even oral aversion. As a result, special needs patients are at a higher risk for developing dental problems and infections due to the numerous challenges faced to receive proper dental care.
At Tooth Clues - The Dental Detective for Kids, we will always be a welcoming environment to our special needs detectives. As a board certified pediatric laser dentist, Agent T has extensive experience treating children with Autism Spectrum Disorders, ADD, ADHD, Down Syndrome, Cerebral Palsy, Epilepsy and various other congenital dental and medical conditions.
Why Choose Tooth Clues - The Dental Detective for Kids for Pediatric Special Needs Dentistry?
Highly Experienced Pediatric Dentist
Several Safe Dental Sedation Methods Available
Soothing Environment for Adults and Children with Special Needs
Special Needs Present Unique Oral Health Challenges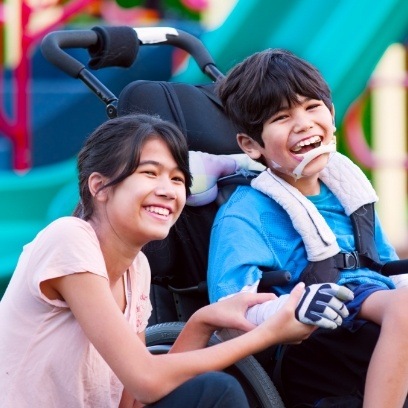 Patients with different physical and intellectual disabilities can face unique challenges when it comes to taking care of their smiles. Special needs patients often struggle with:
Teeth grinding, which can cause enamel wear and lead to more cavities.
Congenitally misshapen, missing, or extra teeth that can make brushing and flossing more difficult.
Teeth that grow in or fall out later than usual.
Chewing habits, like chewing on hard items, their nails, or the inside of their cheeks, which can lead to dental and other oral damage.
Increased risk of cavities and gum disease due to difficulty brushing and flossing.
Fortunately, Agent T is a pediatric dentist with ample experience working with children and even adults who have a variety of special needs and disabilities, so when you bring your loved one to Tooth Clues - The Dental Detective for Kids, you can trust that they will be receiving the top-tier dentistry they deserve.
How Do We Help Our Special Needs Patients Feel Comfortable?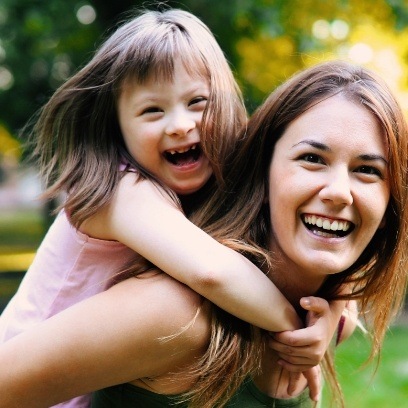 In addition to creating a fun and interactive environment, Agent T offers several types of dental sedation options to ensure a comfortable and safe visit. If your special needs child/adult has an especially difficult time visiting the dentist, we offer nitrous oxide (laughing gas), oral sedation, IV sedation, and general anesthesia and will review with you the best options for your loved one at your visit.
If you have any questions or concerns about your loved one's visit or whether our team will be able to meet their access needs, please ask us when you schedule their appointment. We are happy to work together to make their experience fun, positive, and comfortable!
Dental Tips for Special Needs Patients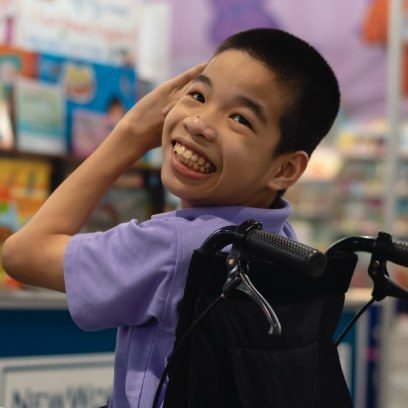 Caring for a child's oral health needs can be overwhelming, and those with physical or intellectual disabilities can change what that looks like. Here are a few helpful tips to help you look out for their pearly whites:
Routine visits are the cornerstone of a healthy smile. As soon as your child's first tooth has erupted through their gums, it is important to begin brushing with fluoridated toothpaste at least twice a day, being sure to use a soft-bristled and appropriate-sized toothbrush.
Incorporating fluoride into their daily diet can help strengthen their enamel and protect against cavities. Agent T can also supplement your child's fluoride with a quick and easy in-office fluoride treatment.
Scheduling their first dental visit should happen as soon as the first tooth erupts but surely by age one. As a pediatric dentist, Agent T has the extra tricks up her sleeves to make these early appointments as positive and fun as possible so your child can look forward to coming back!